The successful businesses are ones that are operated by enthusiastic and passionate entrepreneurs who are directed toward building unique solutions that deliver customer delight. While it is essential to have a sharp focus on customers and the business, it is equally critical to have a firm understanding about the rules, and regulations, fundamental laws, that are applicable for the smooth sailing of the business. From formalizing a owners' agreement to safeguarding intellectual property to implementing business deals, it is imperative that entrepreneurs be informed and up to date with the latest laws governing their business and market.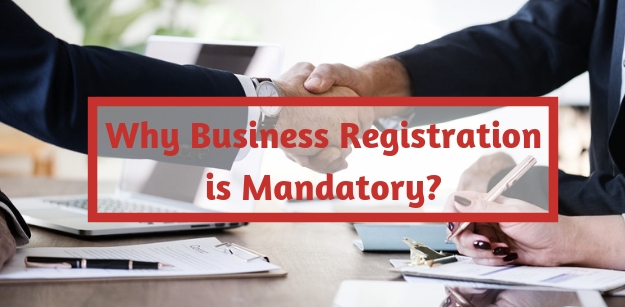 Follow all the legal formalities before commencing any business, in case of failure of compliance with governmental formalities you may have to face legal consequences. You have to comply with all statutory formalities if you intend to launch a business so that, there won't be any uncertainty. The most critical registration for a business is its company incorporation, and it is vital to register your business because this will give you legal protection and secure your business. Following are the reasons why business registration is mandatory:
Legal Entity Name –
When you start the business, you always have to keep a brand name. For obtaining the name of your brand, you first need to register your business with the Government of India and then obtain Trademark Registration, so that the other company won't be able to use that particular brand name.
Business Bank Account –
In the initial stages of the business you only have a personal savings bank account, but as per the authoritarian rules, you always need a business current bank account which is in your company's name. Now the problem is banks cannot open the existing bank account on the firm or company name without the substantial registration certificate & legal documents, so this is the 2nd most important reason to register your business in India.
Invoice –
In a business, you will always have to gain the customer's trust. You will have to issue a proper tax invoice to your customers. So, to issue appropriate invoices, you need to register your business. Without the registration of your company, you cannot publish the applicable invoice to your customers.
Third party agreement –
You may require other company or consultant for all the other things related to your business. Invite them as a tie-up partner or develop a relationship with them as the alliance partner. For creating such a relationship, you need to sign the MOU Agreement. If you want other companies to sign agreements with you, company registration is necessary. It builds trust among parties, and they tie up with ease.
Payment Gateway –
An online business will always need payment gateways to accept the online payments of their clients and customers via credit card, debit card, mobile wallets, net banking, UPI, etc. For payment gateways integration on your website, an application has to be made from payment gateways companies. Payment gateway companies ask for valid legal documents to create a payment gateway account of your business. If your company is registered and has proper documents, any problem related to the payment gateway won't arise.
Additional credibility –
If you somehow happened to list a couple of the benefits of joining your business, one of the most useful reasons would be the instant credibility for your organizations following incorporation. Including "Pvt Ltd" after your business name can include direct authority if you have done Private Limited Company Registration. Customers, sellers, and accomplices may want to work with a registered business.
Internship Certification –
If you tend to hire interns for your business, at that point you have to give them certification at the end, so now undergrads dependably join an organization which is enrolled and offers them a valid certification with the stipend. In this way, hence, it is necessary to register your business in India.
The business liability –
It enables owners to ensure their benefits in case of a claim or claims against a business entity. In a legitimately organized company, owners ought to have limited liability for business obligations. It is one of the important benefits of incorporating your company.
Business Registration is mandatory for your business if you want to make your business as a legal entity and by various laws, it is essential to register your business under the Indian laws. Registering a company in India brings credibility to your business. These registrations considering any legal entity from Sole Proprietorship Firm, Partnership Firm, Limited Liability Partnership, Private Limited Company, One Person Company, depend on how suitable it is for the businesses.