For all those who work play or study online, computer is the place where they spend there most of the time this is why computers should be up to date and working smoothly. We often get notifications regarding Operating system but only operating system is not the software part of our computer. it is also having programs and drivers which also requires getting updated time to time. If we talk about programs they straight away ask you to update them by showing a notification when you run them. The same thing does not go with drivers. It is not so obvious when drivers require an update. So here is how you can check when your drivers require an update and can update them properly.

Symptoms that your computer requires driver update:
As we have discussed earlier you will never get a notification when a driver update is pending. Here are following symptoms which helps you to understand that an update for drives is pending.
1. When you attach a Hardware to your system it gets crashes:
Especially when you attach a flash driver or turn on a specific hardware your computer run its driver to make it compatible with the system. If there is any glitch with the driver system will be crashed automatically. This may result in the loss of any unsaved information. Sometimes even your antimalware can not fix this issue in such cases updating drivers works as a perfect solution.
2. System starts legging when you run a specific program:
If you are experiencing that your system is legging while playing a game or running a specific program, then the issue may be related to specific hardware component and its driver. Did you know most of the time it's not the hardware which has gone out dated but it is the driver which requires to be updated properly.
3. You are getting some hard to understand error messages:
Sometimes your computer shows you some error message which are not at all easy to understand. These error messages do not go even after running OS updates, fixing registries or running antimalware scan. They are having some error code and some technical language which do not say it clearly to update drivers but the root cause behind such error messages is an out dated driver.
So, these were some symptoms which make you understand that drivers on your computer are getting out of date now here are some ways of updating drivers properly.
Manually updating drivers:
If you want to try your luck with the manual process of updating drivers then you should keep it in mind that you should manually search for updates for drives of each hardware component. Here is how you can do this.
1. Look for hardware components which are the root cause of the problem. This means if you are getting an issue after attaching a specific hardware component then identify it clearly.
2. Open device manager and locate hardware component which is the root cause of the problem.
3. Now right click on the hardware you have just located and choose update drivers.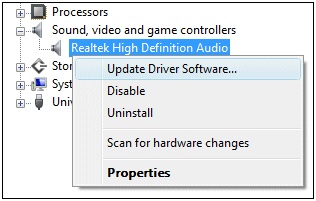 4. Next you will get a choice to either update driver from a specific location on your computer or online. Choose to update drivers online.
5. Once download and installation get completed restart your computer.
6. After a restart issue is supposed to be resolved. Here you should note that you need check for update manually for drivers for all the hardware.
We can say updating drivers manually is not at all an easy task so let us proceed further for the next method to update drivers which is using a third-party software.
Updating drivers using a third-party software:
There are lots of third party software which are capable to search for outdated drivers and to update them automatically but there are few things which you should keep in mind before going for a third-party driver updater software. Which are as follows.
It should not be fake software or a Potentially unwanted program.
The software should capable create backup before applying any changes.
It should give you flexibility to choose which drivers you want to update and which you do not want to update as of now.
The application should clearly show you the version and size of driver before updating.
You can download a driver updater online which should have above qualities and then you with in few minutes it will scan for the drivers on your computer and then in just few clicks driver on your computer will be updated. This is how you can get tuned drivers on your computer it will work like a new machine so fuel up your PC with a driver updater software and enjoy the best of computing.