When Shilpa Shetty flaunted her black bead bracelet after her wedding, there was a huge roar in the fashion circles both positive and negative. Positive for introducing how to restyle the famous mangalsutra but critics argue that how she diminished the value of a mangalsutra. Critics were shown an exit and soon the bracelet mangalsutra became a rage. The power of restyling practically took birth many times but came to light at this juncture.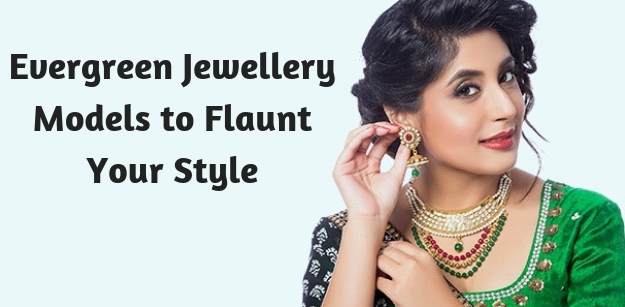 There are definitely two things that came into trend post this:
Reutilizing the Jewellery that stayed rested in the lockers for years
Revamping the designs slightly inline with the current trends.
Many times we have Jewellery models at home that belong to our mother or grandmother that are no longer relevant. These models can be taken out restore them and renew them. Example: My grandmothers Kante necklace was kept in the locker for years now as it was out of fashion. Once I took it and restored the shine again, it looked refreshingly mode. It is wise to understand that every gold Jewellery set old or new is never out of fashion until we know how to carry them.
Here are few ways to keep your old Jewellery
Time to time it is important to polish, clean and preserve the Jewellery in a proper way by putting them in dust free cotton packing with a silica gel sachet to breathe out the moisture if any.
After every use ensure to clean your Jewellery with a soft cloth to get rid of the dust.
Ensure that apart from daily wear, all other Jewellery is not exposed to water, sun or dust excessively as they tend to lose their shine.
It is recommended to follow some grandmother tips while cleaning Jewellery i.e soak and clean them in mild soap water or tamarind water solution.
Follow the above tips to ensure your Jewellery never ages or loses its gleam. There are two such ever green Jewellery models that I would like to write:
1. Long Gold Harams
Using old Jewellery is a great way to show off the vintage it carries, for flaunting the antiqueness of the design and the item. Example: long Haram designs have vanished for a brief period of time and are back in fashion again. Especially concept jewellery harams such as the Ram Parivar gold Haram, Kasuluperu, Gaja Lakshmi gold Haram, Peacock decked haram, Radha-Krishna Cradle haram, The momentus Laskhmi haram etc. These are definitely show stopper pieces in the current day as they are considered as Temple Jewellery wedding designs that are handmade and are considered very labor intensive. They are also priced at a premium for the same reason.
2. Black Bead Chains
Another evergreen model which has not lost its authority and relevance in the current times is the Black Bead chains famously called as "Nallapusalu" by South Indians. Few facts about black bead chains are important to understand:
They are common across all regions and states in India
One can find region specific Nallapusalu models, some long, some semi long, some very short and some black threaded choker designs too.
Another unknown fact about Nallapusalu or the black bead chains is that whenever we purchase one, only the gold used is weighed and priced excluding the beads. The beads are never counted for weight or for calculating the price. Hence, Nallapusalu models usually come in hundreds of styles, weight and price ranges.
Where to look for redesigning your old Jewellery
There are scores of retail Jewellers who would readily accept your old Jewellery to redesign it for you. But, mind you only few of them can actually be trusted. Well established Jewellery houses like Vaibhav Jewellers having retail presence across 11 stores spread across 2 states can surely be trusted. They have an online presence too. They can be approached for customization cum personalization of your Jewellery or can simply exchange unwanted/broken/repairable Jewellery with brand new designs.
My first choice is to refurbish the grand old pieces to suit my present day needs and keep the memories that come along with these Jewels fresh and lively for years to come. So, do not be in a hurry. Consult Jewellery experts on how best you can restyle your aged Jewellery.