Nowadays over half of the world population are online through desktop, Laptop, smartphone & tablets. Everything now available online shopping, news, social media & community. Therefore the online security has become a prime concern for every user. To reduce online scam and significant cyber attacks like eavesdropping and MITM (Man-In-The-Middle) attacks the SSL Certificate plays an important role.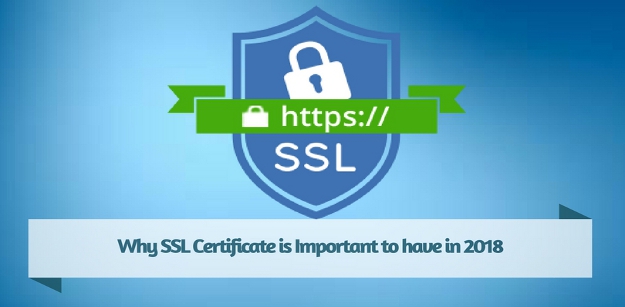 What are SSL certificates?
SSL stands for Secure Sockets Layer; they are the digital certificates that act as an extra layer of security between the browser and the server. In simple terms, these certificates encrypt the communication between a web browser and the web server so that no hacker can intrude your website. It is an acronym for secure sockets layer and considered to be the backbone of website security and a great online presence especially in 2018. It acts as a bridge towards a secure connection ensuring that the information is securely transferred over the internet.
The primary purpose of SSL is to give a secure connection between the browser and the server so that no one can steal or alter the data that is transmitted via the server and the browser. This is very important especially in the case of e-commerce websites, where there is a lot of online transactions of the data is done, and a lot of sensitive information like credit card numbers and passwords are to be submitted to complete your transaction. Here if you have HTTPS feature and the right SSL certificate, then your website is secure.
Getting the right kind of SSL certificate is also very important, as different types of SSL certificate are available in the market of different brands at the various price range.
Domain Validation SSL: These types of SSL Certificate are best for securing single domain website. It is issued within the few minutes of certificate purchase.
Organization Validation SSL: This SSL Certificate is considered as a second highest SSL Certificate type. The company requires validating their business address registered under government norms through a strict legal process to obtain OV certificate.
Extended Validation Certificate: EV or also known as Extended Validation Certificate consider as a most trusted SSL Certificate type. Primary benefits of EV SSL is once the business verifies their authenticity the company name will display in the browser address bar along with green padlock icon. The CA (Certificate Authority) will first verify the business information & other necessary government documents before issuing this certificate.
An SSL Certificate is only issued by trusted CAs (Certificate Authority) like Comodo, Symantec, RapidSSL, GeoTrust, GlobalSign & Thawte. Among these, GeoTrust SSL is the most preferred and comes with a warranty on its different SSL certificate types starts from $500K to USD 1.25M. Get the best SSL certificate from GeoTrust.
What are SSL certificates and why do we need them
SSL certificates also know as TLS certificates; they are considered to be the prime element of the web security in 2018. An SSL Certificate can be used on any website – Small or Big – blogging website or an e-commerce one – every site needs to be protected with the right kind of SSL certificates. In simple words, whenever visitor takes any online transactions on a website and fills some of their details like – credit card or debit card details to complete the transaction. They would see HTTPS feature in the address bar along with Secure word in the green text that makes their transaction secure and safe.
An SSL Certificate gives a message to the server and the browser that this website is safe for online shopping and on the other hand it builds customer's trust as well. Thus, an SSL certificate is important for the enhanced security of your websites in 2018.
Let's have a look at the importance of SSL certificate in 2018
There is a host of reasons for the importance of SSL certificates and why a website needs to have SSL certificate installed on their server. Google has updated that HTTPs feature is mandated for the online business which will affect their rankings on the search engine. While abiding by the deadline the websites are motivated and have many reasons to get the SSL certificate installed in compliance with the deciding factor.
Prevents Data and Information Theft
An SSL certified installed website helps in safeguarding the information and other data transfers. All the information travel through a secured channel between the server and browser. Here, the SSL certificate barge the info and strongly encrypts it at the initial steps only, before it reaches to the intended user. Thus, at this point SSL add a random set of characters to the same and encrypt the data.
Offers a sense of security
SSL certificates help in decreasing thefts and giving its customers a sense of assurance while shopping online. Website with SSL Certificate of trusted brand offers green padlock icon address bar and trusted site seal which also indicates a sense of trust to its customers, in turn giving a feeling of legitimate business. Thus SSL is synonymous with information security and assists in building confidence among customers.
Enables Secure Online Payment
SSL certificate simplifies the online shopping by making secure checkout process simple and safe. Every website that has SSL certificate secures the online payment with at least 128-bit encryption and strong security features. Thus, every e-commerce website that has an SSL certification on board is a secure connection that makes all the online payments secure and safe.
It helps in generating great revenues
When you have your website compliance with SSL certificate and with the standards set by the Payment Card Industry (PCI), then you are sorted with many hazards and shortcomings if violated, there can be serious repercussions. Having said this if you adhere to the SSL certificate compliance and other standards it will generate trust among customers, in turn, increasing revenue for the website.
SSL certificates give a push to the SEO ranking
There is nothing authenticated about it, but since Google has announced the importance of https and flagging the sites that do not have https, there has been a rage among online website owners to get https feature. Moreover, there are numerous SEO experts and Google experts who have studied and said that SSL certificates make a shift in SEO rankings for a website. Well, in this case, it becomes important to have SSL certificates in 2018.
Conclusion
The SSL Certificate is important from website security point of view and SEO benefits. An SSL Certificate comes in different price range based on their types. As we know in this digital era, when everyone likes to be online, their security also becomes a prime concern. If you are blogger, ecommerce owner or running any other type of website, make sure you are using the right kind of SSL Certificate.