Modern RV-trailers are distinguished by both practicality and the presence of high-tech solutions. For luxury travel caravans, telecommuting offices, connectivity, second-level bedrooms, indoor bathrooms are no longer surprising. Traveling regardless of hotels and without tents is a great opportunity to be in picturesque places, in unity with nature with comfort.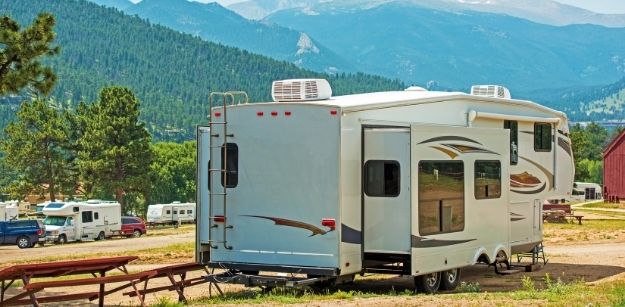 Choice for every budget
If you want to save money without giving up everything you need, take a look at the Winnebago Micro Minnie. The budget travel trailer has a dry weight of 3,360 pounds. The package includes a double mattress, a galley, a sink, a two-door refrigerator, a microwave and a stove. The windows are optimally positioned for cross ventilation. An awning with LED lighting and Patio speakers provide a cozy outdoor experience.
If you're looking for luxury, the Living Vehicle Max is chock-full of technology, comes with a security system, and can be easily customized. Dry weight: 11,500 lbs. A fully stocked kitchen, washing machine, mobile phone, huge screen TVs, Hi-Fi stereo system and more await you inside.
Outdoors for a few days
With a dry weight of 2,972 pounds, the small Taxa Outdoors Mantis camper is a pretty basic pop-up option. It allows you to relax and unwind over the weekend in a relaxed atmosphere. Timberleaf – A teardrop trailer that omits non-essential things that take up a lot of space (1,500 pounds).
The small Polydrops P17A trailer (1200 pounds) is full of energy efficient solutions such as solar panels, LiFePO4 batteries, air conditioning. The modular system includes a sleeping compartment, a kitchenette, a micro closet and a toilet.
Homegrown Trailers Timberline will provide more comfort: hot water bathroom, fresh water, spacious kitchen. It can be connected to the mains or use solar panels. Dry weight – 4250 pounds.
Space and convenience
The Happier Camper weighs 1,800 pounds and has two separate living quarters, an en-suite bathroom and a kitchenette. Adaptive technology allows you to change the purpose of the rooms depending on your needs. Grand Design RV Reflection can be compared to a mini-apartment with lots of electronics. It is family friendly and has a dry weight of 8096 pounds.
Land Ark RV Drake is a stylish and comfortable double-deck camping trailer. It is tall and spacious, has a tankless hot water system, heating and air conditioning. Dry weight – 16,700 lbs. The Airstream Flying Cloud (£5,000) for digital nomads comes in a variety of floor plans, USB ports, USB/AC outlet. The compact office area even has a swivel chair.
There are a huge number of travel trailers on sale, so everyone can choose the best option for their needs and wishes. Caravans provide an opportunity to relax in nature, travel and even work without being tied to brick walls.