Of the many available options, Airtel Digital TV, the DTH arms of Bharti Airtel stands tall in the market and has been providing not only flawless services to the customers, but also an attractive array of channels. Customers, who take long term Airtel DTH plans, can enjoy some incremental benefits in addition to the regular ones. Most of these benefits are applied as discounted rates that the customer can pay when they take a long term plan. Let's take a look at some of the long term DTH plans that customers can take for a whole year, six or even three months, and free themselves from the hassle of recharging every month.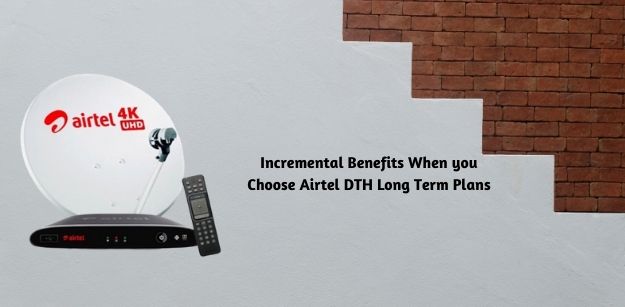 Airtel DTH Annual and Semi-annual Plans
One of the popular plans on Airtel DTH that can be availed throughout India is the Dabangg pack. Within this plan there are various options that the customers can choose from. While some packs under this plan come with semi-annual and quarterly packs, there are some annual subscriptions as well. For example, you can take Dabangg HD 12M (12 months) pack by paying a total cost of INR 3,851, with taxes. On a payment of INR 2,101 (tax included), you can take Dabangg HD 6M.
Subscribers get discount on long-term DTH plans
As compared to the monthly and even quarterly packs, subscribers, who take the long-term DTH plans, get more discounts. The amount may seem a little much since the customer will be paying it at one time, but if you take instead take it as a monthly plan; you will find a gap in the two amounts. When you divide the annual pack into months, the monthly cost comes to INR 272; while, for the semi-annual plan, the monthly cost comes around INR 297. This results in a direct cost saving and the longer duration plan you take; the more amount you can save.
Regional channels are included in long-term plans
With some of the annual packs, you will be able to get various regional channels as well. A few of the regional channels come with the semi-annual pack and quarterly packs as well. However, the major numbers will be included in the annual packs.
Seven extra free service days on long-term plans
Another benefit that you can enjoy on taking long-term DTH plans, including quarterly plans, is that of availing seven extra free service days. For example, if you take AP My Family HD 3M plan, you will get seven extra days of the service period than the usual.
Free of monthly recharges
As you take an annual plan, you can be free from the worry and burden of paying monthly recharges. You do not have to remind yourself of paying the bills every month and interruption or discontinuation in services due to the non-payment of the recharge amount.
There are various long-term Airtel DTH plans which you can choose from. These plans come at different prices and will provide you with a host of benefits. It is up to your choice to take an annual or semi-annual plan, or even a quarterly plan. You can save not only the worry of having to recharge every month but also some hard earned money by not having to recharge monthly.