The year 2020 had come as a complete surprise to no one. Perhaps one of the most daunting obstacles for companies worldwide was the sudden transition to an entirely remote work culture. It would be safe to say that it has drastically changed how we work, interact, and connect with our peers and teams.
The current situation has further established that digital transformation is more than just a buzzword in 2021 and beyond. It is here to stay for the foreseeable future.
The very essence of work is changing as a result of digital transformation. The widespread use of systems run on artificial intelligence, machine learning, automation, and digitalization has sparked discussions over whether computers would eventually replace humans.
But the truth is very different. Lucia Adams was the one who summarized it perfectly:
'Digital is 10% tech and 90% human. Organizations talk about digital as if it is 90% tech and 10%, human.'
The primary goal of digital transformation is to make day-to-day business activities, procedures, and activities easier to manage, run, and assess. And that includes employee engagement.
Employee Engagement In The Digital Era
To the uninitiated, employee engagement is the feeling of loyalty, commitment, and an emotional connection towards their place of work. The more engaged an individual is, the more likely they are to exhibit improved efficiency, productivity and go above and beyond to do an outstanding job whenever possible.
However, now that most corporations have gone remote, HR leaders are challenged to find newer and more tangible ways to keep their workers happy without engaging in face-to-face interactions.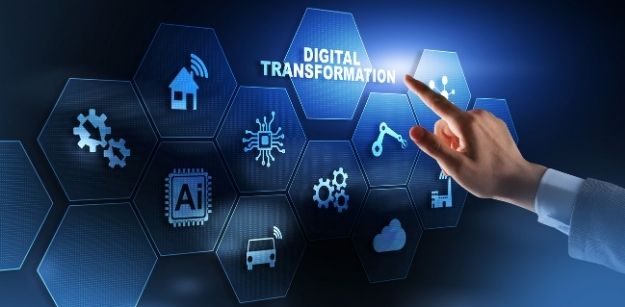 Fortunately, digital transformation has made it much easier for leaders to use technology to connect with their people in a timely, effective, and meaningful manner, even while operating remotely. This ensures that workers derive nearly (if not precisely) the same level of satisfaction, enjoyment, and sense of belonging from their virtual work-life as they did from their conventional 9-5 schedules.
Given that digitalization has already been criticized for "taking over jobs," it is important that leaders understand the importance of introducing any new digital transformations in the right way. Even so, as businesses embark on the journey of driving employee engagement through digitalization, it is critical that leaders communicate the entire process to the employees in a straightforward and concise manner.
4 Powerful Ways How Digital Transformation Enhances Employee Engagement
1. Digital Employee Engagement Software
As previously noted, the latest digitally savvy employees want more than just a paycheck. For these new employees, the quality of their work-life is a key factor in their decision to stay with a company.
As a result of companies and leaders becoming more aware of the value of retaining these top talents- especially when people are more likely to be disengaged- there has been a recent explosion of tools and software that make remote employee engagement more feasible and easy.
For any company that understands and recognizes the need for boosting remote employee engagement, the most successful way to do so is to invest in a digital employee engagement software or tool.
Remote employee engagement might seem like a complex, costly, and time-consuming process, but it needn't have to be. Any good digital employee engagement software will focus on providing solutions that address your organization's problem areas- be it rewards and recognition, employee benefits, employee surveys, or employee wellbeing. However, there are a few platforms that provide multiple services as a single, comprehensive suite of solutions.
Many of these digital employee engagement software offer cost-effective prices, multi-platform support, and useful analysis functionalities. This makes the process of operating, managing, and enforcing such solutions on a globally distributed workforce becomes feasible as a result.
2. Aligning Organizational Culture
Culture has a significant effect on employee engagement. It may seem to be insignificant, but an organization's culture is the first to feel the effects of a shift to digitalization.
Companies that concentrated on culture were 5x more likely to achieve breakthrough success than companies that overlooked culture, according to a BCG study of 40 digital transformations.
Digital culture is fast, responsive, tricky, and encourages constant innovations. Since today's world focuses more on being constantly innovating and staying relevant to the changing times, companies that embrace digitalization show great promise of succeeding.
A culture that is inching towards a digital future will change the face of employee engagement in itself. Digitalization ensures that your employee engagement measures are kept dynamic and ready to be implemented in a quick and hassle-free way. Furthermore, good leaders are diligent in ensuring that sufficient training and development resources are available to teach workers how to work alongside technological advances in order to achieve the best possible business results.
Here are some strategies for ensuring that your workforce's transition from their old company culture to a new digital culture is as smooth as possible:
Give access to the requisite training opportunities. It may be a live workshop or a subscription to an eLearning program.
Mentorship or buddy services are excellent options for peers to collaborate and explore the intricacies of the digital culture.
To meet the new expectations, the organization's leader must re-learn new behaviors and even change their leadership style.
Prioritizing and implementing collaboration should be a top priority. Encourage workers to network, learn, and partner with one another to come up with new ideas and solutions. Cross-functional teams are an excellent example of how digitalization can be used by different teams to accomplish a shared purpose.
3. More Autonomy, Greater Flexibility
People can now function at their own pace, from any place, at any time, thanks to digital transformation. Employees are happier, less distracted, and burnout is less common as a result.
The ease of work will be significantly improved as a result of digital transformation, which will lead to workers seeking a more flexible work schedule that promotes their need for work-life balance.
Gig and remote working have become increasingly common in recent years. Today, in 2020, the majority of employers and workers are discussing whether or not to return to a physical office venue.
In fact, Twitter recently revealed its plan to encourage its workers to "work from home forever."
Employees today are searching for more autonomy and control over their careers. People, unlike previous generations, are searching for opportunities to do meaningful work that makes them happy and satisfied.
According to a survey conducted by Wakefield Research and Citrix, 50% of office professionals who work in a flexible work environment report improved efficiency, and 40% of professionals would reject a job offer if it did not include the possibility of flexible work.
It's critical for companies embarking on a digital transformation journey to recognize that granting more control and flexibility to your employees would be the single most influential thing you can do to boost the levels of engagement.
4. Powerful Results
The biggest advantage of digital transformation is how truly powerful it can be while being incredibly fast and dynamic at the same time.
At a time when distributed teams are a norm, and disengagement is at an all-time high, businesses need to seek out solutions that help people to connect, communicate, and bond in a better way, through the aid of technology. Just because the world has gone virtual does not mean that your engagement measures have to stop.
For companies, using digital technology to push forward their employee engagement strategy in the remote-oriented world is extremely critical. In addition to faster and more efficient deployment, it is also easier to analyze and measure your company's engagement levels to pinpoint the strengths and weaknesses. These functionalities will make it easier for leaders to formulate action plans and take the necessary corrective measures in due time.
What's Next?
Like it or not, the shift to a digital workplace is inevitable. It is no longer a case of "if" but a "when." 2020 has revealed how digital transformation doesn't seek to replace people but instead will aid in making work-life a tad bit easier.
When companies speak about digital transformation, they must also think about the implications for employee engagement. Employees are more likely to adapt to a virtual environment that identifies them and recognizes the value they add to the company on a daily basis.