"Flyers are so last season."
In the digital world, people often view flyers as an old-fashioned advertising medium. There's a lot of clamour in the marketing industry, dismissing the art of print ads, flyers to be exact. As a refresher, flyers are a form of print advertising intended for public distribution and consumption.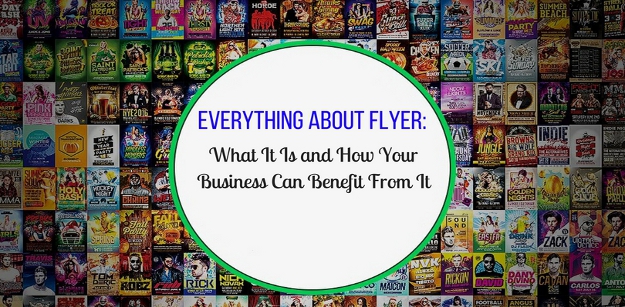 The good news is, not only are flyers not dead, but they are making a comeback. The medium is still as relevant and effective as ever. We might be living in the era of online advertising, but the flyer is still an invaluable promotional tool.
Regardless of means, design principles remain steadfast, and the effectiveness of a marketing strategy goes beyond its medium. Here are five reasons why flyers are the way to go if you want to promote a concept that will stick in people's minds.
It's a Low-cost Solution
There's a reason why Flyers still exist today. They are extremely cost effective. Flyers are one of the most efficient ways to promote an event compared to other forms of advertising, especially in the world of offline media. You might invest in affordable business cards or cheap email marketing schemes, but flyers will ultimately help you save more resources.
Not only it is cheaper and money wise, but it is also practical regarding effort involved. Unlike online media where your inbox overflows with unsolicited and often irrelevant information, with flyers, you can make sure that you reach out directly to your target audience. This fact alone can save you time and marketing dollars.
It's a Hands-on Experience
We all want to get our hands on something. And this principle remains accurate even in flyer advertising. When you get your customers to receive your flyers physically, you're already halfway to get your message across.
The other half lies in your flyer's ability to speak to the customer. You do this by ensuring its impact through eye-catching graphics and a quality print finish. The same goes for all print media, from the print business card sector to billboard advertising.
Flyers give you the opportunity to engage with your audience on a physical level. With the proper use of visual and sensory design strategies, your flyers are sure to make an impact on the consumers' minds.
It Provides Immediate Feedback
In handing out flyers, you engage with the customer face to face. From there, you can gauge their reactions towards the services you offer. When distributing flyers, you can have a personal conversation and get immediate feedback. You can use these feedback to improve and change your strategies to fit the market's wants.
Another useful way to use this data is in mapping out your buyer demographic. In crafting your buyer persona, you can meet their needs at the right time and place, with the right people.
Your Audience Get What They Want
In working with print flyers, you can immediately show your customers the information they want to see. Seeing that 70 percent of Americans prefer to read on paper, you're giving them half of what they want with flyers. During the designing phase, the marketing team focuses on tailoring the flyer to make sure that it contains all the necessary information.
Paper size, paper quality, graphic design, and color selection are some of the factors that significantly influence the reader. Flyers have the upper hand in advertising since it offers a straightforward approach to deliver information to the user.
On the front end, you can immediately see the subject of promotion and all the relevant information associated with it.
Catch the Consumer's' Eye
Studies show that readers are more likely to skim through online articles when compared to print media. The respondents displayed longer retention times and focused harder on the piece at hand. Flyers have the advantage of holding the reader's interest longer than the average 15-second website engagement.
Print media, such as flyers and brochures, even cheap business cards, convey a certain degree of professionalism. Professional ads exhibit a sense of trustworthiness and credibility, which is good for business. Flyers are an excellent way to establish your name. With the help of aesthetics, such as color, text, and images, you're creating your brand and making your mark.
Takeaway
Businesses are gradually welcoming the age of digital advertising with open arms. With this influx of online marketing, old advertising strategies are becoming new again. Flyers have been around for centuries and will continue to prevail in the marketing industry.
It's getting more challenging than ever to attract the consumers' attention, and even more in keeping it. In the sea of digital media marketing, offer your customers a breath of fresh air by designing your way through the advertising world with the help of flyers.