In the world of health and fitness, when we talk about agility, we usually refer to the set of physical qualities and abilities that, when applied in combination, allow the body to change position efficiently. Agility does not just refer to speed or flexibility as you might think, it also considers strength, power, endurance, speed, flexibility, coordination, balance, etc.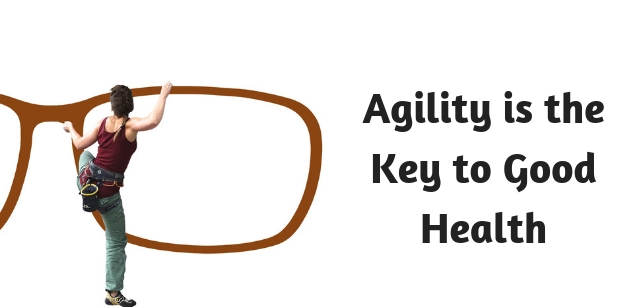 However, the tricky thing with agility is that it's entirely dependent on having a solid base with ALL of the physical qualities we previously mentioned. For example, if you achieve a significant increase in muscle mass it is very likely that your overall strength levels will increase; however, the increased muscle mass will in turn make you slower and thus less agile. Increasing one physical attribute too much can be to the detriment of your overall agility and fitness levels.
Conversely, if you want to improve your speed you will have to lower your body weight by performing aerobic training, which will produce an improvement of your aerobic endurance and decrease in muscle mass therefore your speed will be much improved, however your maximum strength will have diminished.
As you see, the ideal agility is to have each physical quality in its best expression, taking into account that all of them remain balanced in proportion to one another.
The best way to train agility, and do it in a balanced yet effective manner, is to learn some Muay Thai. Thailand's national sport, also known as Thai Kickboxing, is one of the most dynamic and exciting martial arts disciplines in the world. Learning Muay Thai from a professional coach is the best way to get in shape, experience meaningful and lasting weight loss, and learn an effective method of self-defense.
Muay Thai training involves a wide range of exercises and demands high intensity performance from your body. While you learn and train, your strength, power, resistance, speed, flexibility, coordination, and stamina will be put to the test and progressively improve.
To train agility through Muay Thai, you have to train thoroughly with functional exercises that maximize your body's athletic potential.
In the same manner, to get the most potential out of your Muay Thai training, you would do well to join one of the many successful training camp programs that populate the country of Thailand.
Learning and training this fantastic sport has never been and will never be easier than right now. These programs are set up so that students learn from the most qualified trainers and coaches in the industry. These facilities provide room and board, dietary assistance, and tailored training. Incredible experiences await you in Thailand, so visit and enjoy the best that the Asian continent has to offer while improving your health, fitness, and agility to boot.  How to lose calories fast with exercise | Suwitmuaythai  is a good article. The benefits of Muay Thai when it comes to weight loss are too numerous and powerful to be ignored.  Just make sure you come prepared.