Finding the perfect hairstyle can be an anxiety-ridden task on any day but it is especially nerve wrecking for any bride-to-be on her big day. Your first choice may not be the hairstyle that is chosen if you do not have a wedding dress already picked out. If you have an idea of the style of the neckline of your wedding dress in mind this decision will be more clear when browsing wedding hairdos. You can find a lot of inspiration from every bride's favorite website Pinterest. Before falling down the endless rabbit hole of searching through a myriad of photos, take a look at the 8 most popular bridal hairstyles listed below.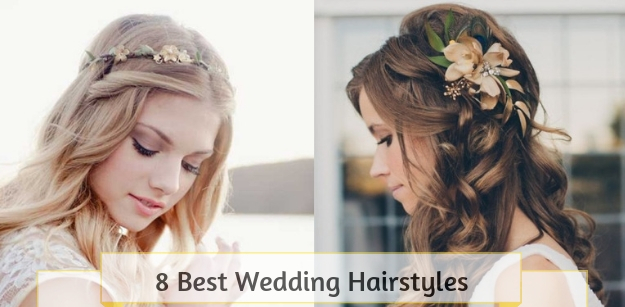 1. Bridal updos
This classic and gorgeous hairstyle transitions seamlessly into the reception dinner. Although simplistic this style will not overshadow your wedding dress, especially if you have chosen an ornate and attention-grabbing gown. There are several ways to accomplish the perfect bridal updo. There are sleek updos that take little to no time to do. You can accessorize a tasseled curly updo pinned up with a crown of fresh roses can really encompass a romantic rustic or nature-inspired vibe. All hair buns are not created equal, take a look at the simple twisted chignon. It is gorgeous and would be perfect for a garden inspired wedding.
2. Sleek Top Knot with a Back Braid
If your wedding takes place on the beach or is in the summertime. Braids have taken a front seat to elegantly designed bridal hairstyles. There are many options of beautiful hair accessories or hair jewelry to add to your braids to really make an impression. Some brides are braiding fresh flowers like daisies into their top knot styles. The front of your hair would look like a perfectly sleek hairstyle, while the back of your head can be bejeweled.
3. Glossy Ponytail With Bangs
If you are a chic modern bride, maybe an exaggerated hairstyle is not appealing to you. As simplistic as this sounds this hairdo is perfect for so many reasons. You will most likely not have to hire a hairstylist to complete this look on your own. This hairstyle will also not overpower your wedding dress, makeup, or choice of accessories. If this was a hairstyle you previously rocked, this could be classified as your something old if nothing else.
4. Short Hair Curly Bob With Bangs
As a woman with short hair herself, I completely understand the struggles of pulling off elegant or sophisticated short hairstyles. There are so many variations of how to redefine a short haircut as romantic. You can add wavy texturing to your look if your hair falls chin length or to the shoulders. Sure there are options of adding hair extensions but if you aim to keep a natural and simplistic look there are various options to pump up a bob!
5. Pixie Cut
With the third feminist wave, Millennials have been chopping off their long locks of hair and dying it all colors of the rainbow. Many Brides that are not afraid of hair dye stick to pastel colors for their wedding. There is no unofficial rule that your hair has to be pastel-colored but it is a current trend amongst millennial brides. If you happen to be a bride that doesn't care for traditions for tradition's sake, any hair color is an option to consider. Flower crowns, which could be made as a DIY bridal party activity with your bridesmaids as a bonus, are very flattering against uniquely colored hair. Another fashionable trend is to dye your hair with multicolored pastel hair dye for a whimsical appeal.
6. Curly Short updo
If wild and in charge colors for your hair is a bit much for your wedding day, you can execute the same pixie cut updo with a natural color more fitted for your personal style. You do not have to have long hair or even extensions to enjoy an elegant updo. Lots of hairpins and hairspray are your best friends when slaying this look.
7. Tight Natural Curls
If you don't feel like spending an inordinate amount of time on your big day getting her hair straightened, to just have it curled back up by the end of the night, rocking your natural tight curls could be the perfect option. This is such a hassle free and natural look that comes with so many ways to accessorize.
8. Half and Half
No not the coffee, but the hairstyle. A half-up and half-down hairdo pairs perfectly with any bridal veil. You can do a short and cute bob or you can add hair extensions clip-ins. Your extensions would be super seamless while adding an elegantly effortless feel. The perfect thing about this hairstyle is the many ways to dress it up or down.
Sometimes working backward can really help simplify a tough process. Besides considering the neckline and style of your wedding dress, you can take a look at the many options of hair accessories from Luv Bridal. Wedding Dresses Luv Bridal Melbourne has gorgeous hair accessory pieces for you and your entire bridal party. They will save you time hunting in several locations for each piece that compliments your wedding dress or your bridesmaid's dresses. You can visit their showroom at any time during the hours of operation but booking an appointment is highly advised. When you discover the perfect dress in their showroom you can try all of the pieces together alongside your bridesmaid's pieces to settle on the complementary style of your choosing.