Palm oil is an edible vegetable oil that is extracted from the fruit of palm oil trees. There are two varieties of palm oil namely the crude palm oil and the palm kernel oil. Crude palm oil comes from the flesh part of the fruit and palm kernel oil comes from the kernel of the fruit. A total of 42 countries produce palm oil.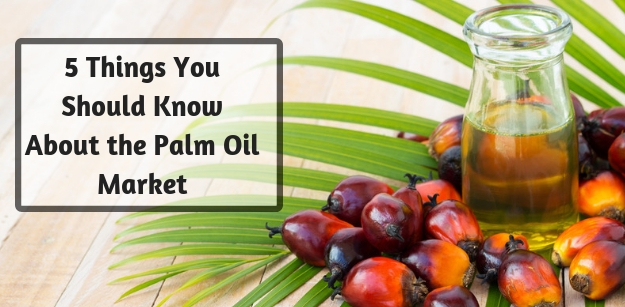 Properties of Palm Oil
Palm oil is extremely versatile and has exceptional properties that make it an essential ingredient in almost every industry. It remains semi-solid at room temperature and thus is an important ingredient for making spreads. It is also used as a preservative to give a longer shelf life to products as it is oxidation resistant. Due to its stability at high temperatures, it is widely used to maintain crunchiness and crispiness of food items like fries. It also doesn't alter the taste and smell of products as it is a colorless and odorless product.
Applications of Palm Oil
Palm oil is present in nearly half of the total packaged products that we use today. Its utility ranges from doughnuts, pizza, pastries, spreads, chocolates, to deodorants, toothpaste, shampoos, and lipsticks. In many countries, it is also used as a biofuel as well as an animal feed. It is used for the production of lubricants, greases, and candles. Additionally, palm oil has many health benefits. It contains many antioxidants that increase the immunity of our body. Palm oil makes the skin naturally soft and supple without stickiness and also cures skin itchiness. The palm kernel oil increases the volume of hair, prevents hair fall and provides deep conditioning. It also contains vitamins D and E that are beneficial for bone and skin health.
Here are five things you should know about the palm oil market:
#1 It is the Second Most Widely Consumed Vegetable Oil in the World
According to Statista, in 2018, the global palm oil production volume reached approximately 69.6 million metric tons. It is majorly used by snack manufacturers and consumer retail food manufacturers. Among all the vegetable oils consumed globally, palm oil is the second largest oil consumed after sunflower seed oil.
Palm oil is incredibly efficient and generates more oil per area compared to any other vegetable oil crop. So much so that to produce the same quantity of soybean or coconut oil we would need about 4 to 10 times more land than required for palm oil.
#2 Asian Markets Dominate the Palm Oil Industry
Malaysia and Indonesia are the world's largest palm oil producers. They are immediately followed by Thailand, which is the third largest crude palm oil producer of the world. The ASEAN region alone accounts for nearly 52.5 million tonnes which is almost 85% of the global palm oil. In terms of palm oil consumption, Asia dominates the market with India and China leading the global palm oil consumption.
#3 The Largest Palm Oil Supplier in the World
The world's largest palm oil producing player is Wilmar International which is headquartered in Singapore. They also own one of the world's largest oil palm plantation. They started their very first palm oil trading operations back in 1991. Today their core services include oil palm cultivation, oleochemicals, biodiesel, sugar milling & refining, edible oils refining, oilseed crushing, manufacturing of consumer products, specialty fats, and fertilizers. It has an expansive distribution network that reaches India, China, Indonesia, and nearly 50 other countries.
#4 The Palm Oil Buyers
The palm oil market analysis suggests that the majority of the palm oil buyers belong to the food industries, biodiesel industry, and animal feed companies. They have less dominance on the palm oil prices when compared to the suppliers. In other words, buyer power is not prevalent in the palm oil market and there less scope for expecting price negotiations from the suppliers' side. The palm oil market has a suppliers' monopoly.
#5 Palm Oil as a Biofuel
Palm oil is utilized to produce hydro deoxygenated biodiesel and Methyl Ester. The diesel produced with a blend of palm oil meets the European biodiesel standard EN14214. Palm oil processing produces organic waste that can be reused to produce more energy. This organic waste material can be used as biofuel after converting them into pellets. Additionally, the palm oil that remains after cooking can be treated chemically to produce a petroleum-like diesel.
Lately, there has been a lot of clamor about the environmental impact of palm oil. It is alleged that the palm oil plantations affect the rainforests and orangutans. However, organizations like Roundtable of Sustainable Palm Oil or RSPO take the responsibility of producing palm oil keeping in mind the best interests of the environment and the people.
RSPO was formed in 2004. It creates a standard for palm oil production that benchmarks the procurement and manufacturing best practices for palm oil. Companies like Unilever, Johnson & Johnsons, Nestle, and L'oreal are some of the responsible companies that buy certified palm oil for their products.
Despite the high efficiency of palm oil seeds as compared to other vegetable oils, the global palm oil market is facing stringent regulations by the government. Although the organizations are working towards the sustainable production of palm oil, moderate growth in the market can be expected in near future.