Event management tools are every organizer's best friend. Event management tools help you save time, be organized, and take care of every event detail with ease.
Now you must wonder why bother to use such tools when the event is hosted online and has a limited number of attendees?
Even with twenty attendees, there are many tasks behind the stage that need to be streamlined for proper functioning. Would you always be comfortable to take notes of the tasks and attend to them manually? Similarly, when the events are conducted online, would you have enough bandwidth to take care of every event aspect manually, like event ticketing, email follow-ups?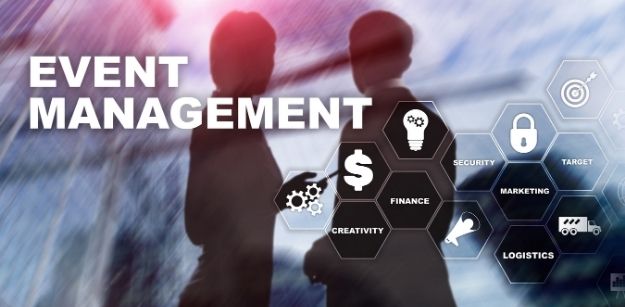 There are tons of event management tools in the market that confuse organizers, thus leading to the non-utilization of the tools. And we bring to you a curated list of important event management tools that will ease your process and help you focus on urgent tasks at hand.
Now, before you choose any event management tool, make sure to find answers to the below questions. This will help you in utilizing only the important tools that you need to conduct your events.
What tools do you need for the event? Like a ticketing system, mobile application, website, engagement solutions, check-in tool, or lead generation.
What are the strengths you are looking for in the tool? Like a tool that is only meant for in-person events, or a tool meant for online events, or a tool that supports both.
Do you require a tool that must be mobile-friendly?
How easily do you want to adopt them?
Let's discover the important event management tools below.
1. Goldcast
Goldcast is an event management software that helps you create virtual events that feel like a Netflix show. Goldcast has been awarded the Rising Star 2020 Award and focuses to accelerate your sales funnels through the events.
With Goldcast, you not only attract and retain attendees, but can also engage with them to convert more attendees to customers. With Goldcast, you can engage with the audience during the event by conducting live polls, live questions and answers, interactive slides, etc.
You can customize the platform related to your company branding, use both live and pre-recorded videos at the same time, create interactive roundtable rooms, integrate with marketing tools and CRMs, and get detailed post event analytics.
2. Eventbrite
Eventbrite is a very popular event ticketing tool for all ranges of event participants. The system is absolutely customizable and can be used to send email confirmations and reminders. With Eventbrite, you can let your attendees register from both mobile phones and desktops.
3. Trello
Trello is an important tool for the event organizing team. It is a project management tool that lets you monitor the progress with a strong visual interface, simple usability, and easy collaboration features.
Trello is a powerful tool that lets you share the task board with your team members and collaborate on the board as a team. It is not specifically designed for event management, but Trello gives you a bird's-eye view of the tasks in a calendar format.
4. Boomset
Boomset is a renowned event management tool that provides the registrants with the flexibility to check-in, print on-demand badges, and helps the organizers to manage the guest list.
The tool also allows facial recognition check-in and RFID enabled wristbands for registrant tracking. If you organize events on a large scale and are looking to simplify the registration and check-in process, then Boomset is the best tool.
5. Slack
No event management process can be simpler without a messaging application. Slack is not just a messaging app, but allows your team to collaborate together on tasks. With Slack you can create multiple groups as per the tasks, communicate with the members, share documents and more, and change the attribute of the group from public to private.
With Slack the team can share images, videos, calls, and files.
6. WordPress
If you are looking to create an exciting website highlighting your events, then WordPress is your solution. With over eighty million users, WordPress is a fully customizable content management system.
In WordPress, you can manually add data, and elements related to the event and track them accordingly. With thousands of plugins available, WordPress provides you the flexibility to do wonders.
If you are new to the business and looking for a solid website platform, WordPress is your answer.
7. GoTo Webinar
Webinars are a great way to create some noise and excitement before the main event. With webinars, you can share knowledge about the related trends and topics and upsell your main event to your participating registrants.
There are multiple webinar platforms available in the market, but amid the pandemic GoTo Webinar has gained its exposure and satisfied over 50,000 customers worldwide and has hosted 2.7 million yearly webinars.
GoTo Webinar also lets 3,000 participants access a webinar at a single time, while GoToWebcast supports up to 100k participants.
8. Google Drive
Google Drive is the most effective tool of the decade, and while Google Drive is widely used by professionals, it is also a blessing when it comes to hosting events. With Excel, Word, PowerPoint, all in one cloud application, Google Drive can become a central source of crazy amounts of event data. Alos the entire event management team can collaborate together without any problems.
Conclusion
There are many other event management tools in the market suitable for your needs. If you are looking for tools other than the ones listed here, do look out for answers to the questions that are listed above. These questions will help you analyze the tools better and enlighten you to choose the ones that are really necessary.
While the ones listed in this blog are mostly what the event organizer's team needs, you can check out for more online and grab the one that suits your needs. But before you put your money in buying a subscription, make sure to find answers to the questions to make better informed decisions.